In December the Distillery came alight with Christmas tapers, mulled wine and… camera flashes as the Toronto Christmas Market, and the resulting Toronto Christmas Market photo contest commenced.
For three festive weeks the cobblestones were flooded with carolers, children, families, lovers, reindeer, shoppers, musicians, elves and, of course, men – in all sorts of Father Christmas incarnations.
The photo contest was another success for the Distillery, with over 300 entries submitted.
Prizes were awarded, with restaurant gift certificates for some of the Distillery's fine dining establishments among them.
A giant tree donated by Trees Canada was the centrepiece of the whole event, with a stage set up for musical performances on one side and a decorated ferris wheel on the other.
Pikto Top Pick Photo Contest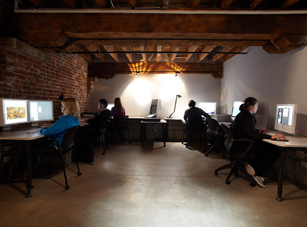 Pikto, like the Distillery (and convenienty located in it) is a photographer's haven, a store with photography workshops, digital workrooms, and the Pikto Top Pick Photo Contest, a serious photo contest with a grand prize of $5, 000 to be put towards an exhibition in Pikto's own gallery.
The contest was open to all subject matter and the winner, U.K. based photographer Anastasia Taylor-Lind, chose to focus on the rebuilding of Nagorno-Karabakh–through a government incentive that pays couples in cash for having children.
Taylor-Lind's work will be displayed at the Pikto Gallery from January 5, 2012 – February 29, 2012. The opening reception will be held this Saturday, January 21, 2012 from 6pm-10pm.
Lenzr Photo Contests
Lenzr, a serial photo contest website that extends competition across Canada and the U.S., makes the Distillery District its headquarters. The free website routinely gives away prizes (iPads, laptops, cameras, cash and even backpacks that charge electronics using built-in solar panels) for the best photographs. The best photographs are determined first by a voting period in which Lenzr's loyal members vote on their favourites, and second by a panel of qualified judges. Check out some of Lenzr.com's current photo contests for your chance to win!
Lenzr's Old Beside New photo contest asks to see submissions comparing an older version of
something (or someone, or somewhere!) beside its updated counterpart. The prize for this contest is $250 plus a photo licensing agreement with the contest's sponsor, Solarsoft ERP's continuous improvement solutions.
This contest started December 1, 2011 and is currently in the voting stage. You may enter up until January 25. The winning photograph will be announced February 1, 2012.
One of two hair-themed photo contest currently running on the site, Hair Styling Trends For 2012 is looking for submissions predicting what the next hot hairstyle may be. Its sister contest, Bad Weather Hair, is looking for submissions illustrating how the weather can affect a hairdo. Both contests are sponsored by Aveda Institute Canada's Winnipeg hair school and Vancouver hair school respectively, and the prize for each is an incredible $500 worth of Aveda product!
The Good Dental Habits photo contest is looking for submissions that illustrate the importance of proactive oral care.
Sponsored by Toronto dentist Dr. Natalie Archer, the best photo submitted wins an iPad 2. Hurry, get your shots in because voting for this contest ends January 25!
Be sure to check out Lenzr.com for more photographic challenges.